CYRN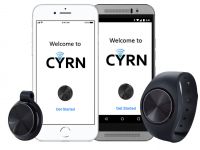 Help Is Just A Click Away
With the push of the CYRN SOS button, the connected smartphone will send an SOS alert, personalized text message, and the GPS location of the incident to up to three preselected contacts and the LINX Dispatcher.
CYRN can be carried discreetly in a pocket or a bag, worn on the wrist, on a keycard, or around the neck as a pendant. CYRN uses Bluetooth® technology in association with a mobile app on Android or iOS, to initiate calls and text messages from a smartphone.
CYRN ensures that your team members will get help fast if in trouble, even when their phone screens are locked or out of reach. By reporting the Alarm to the Dispatcher, the location of the worker in trouble is recorded, the event signals for help and the Dispatcher can route the nearest employees to aid instantly.

Now at the press of a button, your employee can trigger their connected cell phone to alert emergency staff, safety teams, and management personnel for help and the alert includes their GPS location from an easy-to-use, wearable personal protection device.