SafeNet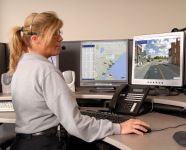 SafeNet is SafeMobile's affordable, entirely web-based, solution to all fleet management needs. From anywhere in the world with an internet connected PC, fleet managers are able to effectively manage and monitor their two-way radio or Cellular-based, GPS-equipped mobile workforce. When used in conjunction with your MOTOTRBO Radio system, SafeNet provides you with invaluable tools to maximize efficiency, achieve seamless communication and analyze critical data via key reports.
There are several advantages to utilizing SafeNet for your company's needs, some of which are listed here:
ADVANTAGES:
Advantages for SafeNet (Cloud-Based)
ITEM
SafeNet
Installation
NONE (Cloud-Based)
Real-Time
YES (1 Minute)
Upgrades
INSTANT (Built-In)
Access From Multiple Machines
YES
OS Platform
Cross Platform
Data Security

256 bit encryption

(same as online banking sites)

Internet Access
Required
No Software Installation Required
SafeNet is entirely web-based, via the Cloud, and works perfectly with the majority of modern browsers. There is no configuration or maintenance required, ever. Just log in to the provided URL! Our approach to a web-based solution provides an easy, maintenance-free solution. We handle all updates so that you do not have to and updates are always free!
User Friendly Interface
Designed with a clean, intuitive interface, SafeNet is easy-to-use by anyone who has previous experience working with an internet-based mapping solution, such as Google Maps. The application is also customizable to any language preference you require.
Affordable
SafeNet is the most affordable solution on the market, offering an integration of applications with your radios that fit nearly every budget. The benefits of our SafeNet features will instantly provide an increase to your productivity and reduce overhead costs for your company that will far outweigh the nominal monthly fee to access the solution.
Accessible From Anywhere
Accessible from anywhere in the world, wherever you have access to an Internet connected PC; SafeNet requires no VPN or special hardware!
SafeNet

Suites
SafeNet includes the following suites that can be mixed and matched to customize the perfect solution to meet your individual needs:
GPS/AVL Suite
Real-time location information
Unit status on/off
Polling or immediate location reporting
Landmarking
Geofencing
Speed and heading information
Historical data
Text Messaging Suite
SafeNet is enhanced with text messaging capability that allows for SMS communication between the radio(s) and the dispatcher. The dispatcher can send messages to any radio or group of radios and can also receive messages from radios in a dedicated user-friendly messaging screen.
E-mail Suite - (Connect Plus Systems Only)
The E-mail Suite within SafeNet allows your radios to send messages to any email address and to receive messages sent from an email address. This function enables dispatchers and managers to communicate with their mobile personnel from any computer in the world without having to be at the dispatcher's station, or even in the office at all!
Reporting Suite
The SafeNet Reporting Module offers a variety of reports available for intuitive data interpretation to effectively monitor and improve productivity and performance: ARS, Speeding Report, End of Day Report, Stops Report, Fleet Report, Geofencing & Landmarking Report are just some of the many available.
Mapping Options
SafeNET is compatible with the following radio platforms:
Conventional
IP Site Connect
Capacity Plus
Connect Plus
Linked Capacity Plus
Success Story:
"For 3 years I've worked with SafeMobile and their cloud based GPS service. The clients that use it range from public safety and security to government organizations. The feedback from them has been overwhelmingly positive. They enjoy the simplicity of use, reporting accuracy and the post-sale service. For my part, I've enjoyed working with the SafeMobile team in sales situations. The clients and prospects find their knowledge and ability to apply their solution to the client's situation very helpful. The integration with TRBO technology is critical to my success and no one offers the quality and price point that Safe Mobile does while integrating to our UHF Connect Plus Network."

Pat Maguire