DMR Tier 3
Your customers rely on you to respond quickly and effectively to their needs. You need a digital radio platform that will help you reduce outages, manage renewables, improve grid reliability and meet ultra-narrowbanding requirements while ensuring your assets and staff are protected and performing optimally whatever the conditions.
DMR Tier 3 is the no compromise digital trunked radio platform for building a fully connected and secure enterprise with improved voice, data, location services and vehicle telemetry communications.
SafeDispatch for DMR Tier 3
SafeMobile supports the deployment of cutting edge DMR Tier 3 with SafeDispatch, a two-way radio data application that will provide real time intelligence and control of remote workers and assets to drive future improvements in efficiency.
Efficient workforce management means getting the right people to the right place at the right time, with the right tools and information. SafeDispatch applications make this achievable by providing seamless connection and cooperation between people in the field, central management and deployed assets.
SafeDispatch has built-in support for location based services, allowing your management team to know the exact location of workers, assets and events across your network.
With full support for telemetry data, such as vehicle and bucket status as well as user data, SafeDispatch provides better visibility of field operations. If an unplanned event occurs AVL applications will allow you to pinpoint the nearest qualified worker to accelerate response and reduce drive times.
Communication is clearer and easier than ever before with Text Messaging and Email gateways provided by SafeDispatch as well.
Click below for more information about SafeDispatch for DMR Tier 3.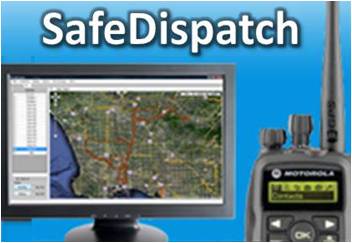 SafeDispatch v7.0 provides the necessary means to effectively track and monitor mobile assets and personnel by adding intelligent features that work in conjunction with your DMR Tier 3 radios.