SafeDispatch Job Ticketing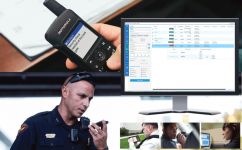 DID YOU KNOW YOU CAN MANAGE YOUR TASKS WITH YOUR RADIO?
Within SafeDispatch v7.0, SafeMobile introduces a new, fully integrated job ticketing system which allows dispatchers to create a dynamic workflow by assigning and sending up-to-date job tickets while tracking their progress through the radio network. Jobs can be accepted, declined and marked completed by the subscriber units by one-button-click or by sending a predefined text message. Job statuses are customizable and can be adapted for the customer's business needs.
With SafeDispatch Job Ticking, workers in the field receive a task list to complete in real-time, using simple predefined responses already set in their radio menu.* Back at the office, Management can control their business processes and workflow effectively through a user-friendly tool that can be integrated with Voice Dispatch, GPS/ AVL tracking, advanced Messaging, Telemetry and Reporting in one seamless solution.
*Note: Motorola enhanced radios with color display are required. The Job Ticketing module not included in SafeDispatch core package and is sold separately.