SafeGuard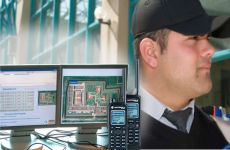 Protect Your Personnel and High Value Assets with
SafeGuard
Accurate In-Door Tracking Solutions
In today's high security and high-value asset environments, you need the ability to safely and effectively track movement of personnel and assets, even when indoors.

Global Positioning Systems (GPS) lack the capability to trace indoors. By employing an in-house location system that utilizes the globally allocated ISM spectrum, you can now accurately track assets and personnel that move within your facilities.

Integrating SafeGuard with your radio system provides accurate in-house location (mapping) that tracks assets and people's movements, while assuring personnel stay in contact and ensuring that no person is ever really alone. Now, you can precisely monitor movements throughout your facilities, including checkpoints, timing and alarms.
SafeGuard Solutions Key Capabilities:
Accurate In-Door Tracking (<1m)
Active Location for Personnel Movement
Passive Readers for Checkpoints
Positions Displayed on Map or Floorplan
Alerts and Alarms
Encrypted
Guard Tour Timing
Emergency
Man Down
Timing & Non-Movement Alarms
Lone Worker
Panic Alarm
"Get Lost" Feature
Active and Passive Tracking
Separation Alarm
What You Can Expect:
Option Boards
SafeGuard utilizes option boards for Tetra and TRBO radios that adapt directly to the radio option slot to provide a location interface.

Speaker MIC Adapters
SafeGuard Speaker MIC Adapters extend the capabilities of most radios without option slots to provide active and passive location, as well as loud audio and emergency.
Adapter Capabilities
Combined Speaker MIC

PTT Button

Emergency Button

Rip Cord Alarm

Volume Control

360 Degree Swivel

Gravitation and Accelerometer

Transponder Reader

Store & Forward Functionality
SafeGuard is compatible with the following radio platforms
PMR (Limited Analog - Call for more info)
DMR
MOTOTRBO (4000 Series)
TETRA (MTP850S)
NXDN (NX200, NX300)